Learn to Simulate, Enhance your Product Value with our Expertise Training
Training is an important component of success for any engineer doing the analysis. We offer many different expert training classes in FEA , CFD & Engineering Tools to maximize your skills for product development and optimization. Our technical team has developed a series of the training session to help you maximize your engineering design simulation skills
BY ATTENDING OUR ADVANCED SIMULATION TRAINING PROGRAM YOU SHALL BE
Modern FEA programs simulate static, dynamic, linear, nonlinear, thermal, modal, and random vibrations, and more. FEA solves many different problems out of which structural and thermal problems are most common for mechanical engineers. But in today's scenario there are very limited resources who can teach us to apply these tools for solving daily engineering problems faced during design process. 

Shirsh have recognized the gap between theoretical knowledge to practical application that design engineers are facing in day-to-day challenges, thus we have made unique training program where designers will not only learn practical application of theory but also gain industrial exposure for using this numerical method to solve toughest engineering problems.
Engineering Design Simulation Training using Finite Element Analysis (FEA) & Computational Fluid Dynamics (CFD) with live industrial examples.
A COMPREHENSIVE TRAINING COURSE ON ENGINEERING SIMULATION FOR ANYONE INTERESTED IN UTILIZING ANSYS FOR PRODUCT DESIGN, OPTIMIZATION & ITS VALIDATION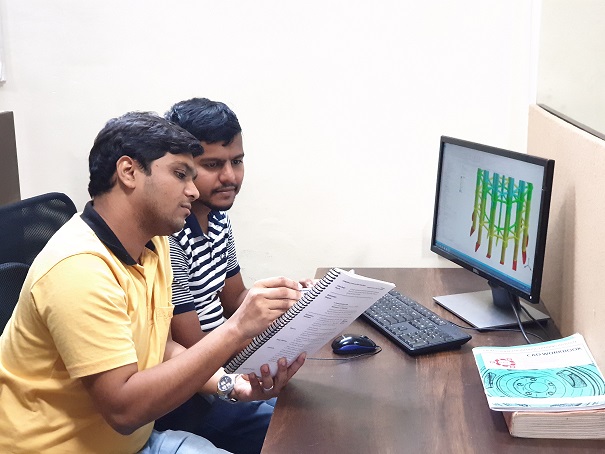 In this training, you shall learn various techniques and tools such as:-
Engineering designing processes and challenges,
Optimizing the design using FEA & CFD,
Failure Analysis,
Studying Parametric change effects,
Product Compliance to different standards,
Effects of vibrations, fatigue, heat on the product and much more.
Module 1: Engineering Design Simulation : Approach and Examples
Introduction to Engineering Design Simulation
Types of Computer Aided Engineering Tools
Finite Element Analysis Methodology
Computational Fluid Dynamics Methodology
Meshless & MeshFree Techniques for Engineering Simulation
Example 1: RCAR Low-speed impact analysis (Dynamic Analysis)
Example 2: Brake Disc Conning Analysis (Thermal Stress)
Example 3: Air Flow & Temperature Monitoring of Data Center (CFD)
Example 4: Solar Panel Mounting Structure – Design Validation & Verification (CFD & FEA)
Example 5: Heat Exchanger Evaluation as per ASME ( Thermal Stress)
Module 2: Geometry, Meshing & Post-Processing Techniques
Types of Elements and Geometry Simplification
Meshing Parameters and its Effect on Results
Result Validation using Error Plots & Convergence Study
Post-Processing Techniques for Result Evaluation
Experimental Validation and Data Acquisition
1D, 2D & 3D Meshing – When to use it
Special Element and its Techniques
Meshing in Critical Areas
How to Decide Element Type
How Not to Mesh ?
Module 3: Static Response Analysis
Types of Analyses
Basic of Statics and Strength of Materials
Material Properties & its Classifications
Boundary Conditions, Symmetry and Co-ordinate Systems
Assembly Analysis (CONTACT- Weld, Bolt & Shrink fit)
Non-Linear Analysis
Issues Related to Convergence of Non-Linear Analysis
Linear Buckling Analysis (Eigen Value Analysis)
Module 4: DYNAMIC Response Analysis
Why Dynamic Analysis
Dynamic Vs Static Analysis
Difference between Time Domain & Frequency Domain
Free Vibration (MODAL)- How to Avoid Resonance
Damping Consideration
Forced Vibration – Frequency Response Analysis
Forced Vibration – Transient Response Analysis
Response Spectrum Analysis
Module 5: Heat Transfer and Thermal Stress Analysis
Steady State Heat Transfer Analysis
Transient State Heat Transfer Analysis
Thermal Stress Analysis
Radiative Heat Transfer
Introduction to CFD
Heat Transfer Analysis using CFD
Module 6: Flow Simulation - CFD analysis
Basics of Flow Simulation and its Theory
Laminar and Turbulent Flow
Heat Exchanger Flow and thermal
External Aerodynamic Analysis
Module 7: Industrial Project
Problem Description
Project Overview and Deliverables
Design Standards Introduction
Live Project
REGISTER NOW FOR THE ENGINEERING DESIGN SIMULATION (EDS) TRAINING PROGRAM
Duration: 240 hrs | Industrial Project Duration : 2-3 weeks
INDUSTRIAL SKILL DEVELOPMENT TRAINING PROGRAM (ISDP) FOR FRESH ENGINEERS
Complete CAD & CAE training based on domain based engineering
Small and Mid-Scaled Industry are having the requirement of engineers but are unwilling to take fresh engineers for the design department. Engineers are offered a position in Marketing, Quality, Services and sometimes in Production, but 70% management of these companies rarely hire fresh engineers for design and development profile. The only reason for this is 90% of Engineers who are out of college are not able to understand the problem itself, the manufacturing process, ways to address the problem and Solution finding techniques.
Understanding this gap between theoretical knowledge and practical application, we have devised a certificate training program in collaboration with industry professionals. The only way to make this possible is by examples solving of live problems and case studies. That we call as "REAL WORLD" engineering.
Our focus is to make fresh engineers aware of industrial processes by actually making them work on live problems with assured placement for students successfully completing the 6 months training program.